Information and photos provided by Echo Ranch Bible Camp.
On December 2, 2020 record rainfall in Southeast Alaska triggered destructive avalanches, landslides, and flooding throughout the region. Haines, Alaska, home to approximately 2500 people, was hit the hardest by a mudslide that was reported to be approximately 600 feet long and 9 feet deep. Throughout the area mudslides destroyed roadways, which has alienated neighborhoods, resulting in evacuations and even leaving some individuals unaccounted for.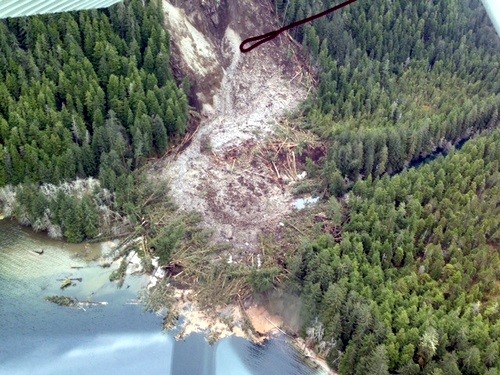 Missionaries with Gospel Missionary Union, now known as Avant Ministries, helped start a church in Haines called Port Chilkoot Bible Church. Throughout the years Avant missionaries have stood beside the church, helping it to flourish. Today the church is thriving and is an integral part of the Haines community.
In 2017 Echo Ranch Bible Camp was given a property just 6 miles outside of Haines, which was formerly Rainbow Glacier Camp. Now known as Echo Ranch Haines, this facility is a key aspect of our camping and retreat outreach, and the Haines community has supported our ministry with growing enthusiasm and helping hands.
Our hearts are broken for the people of Haines, and as salt and light in this community, we want to lend help in this time of crisis. Will you join us in weathering the storm with them? First and foremost, please pray! Second, as the rains stop and the destruction is evaluated, there will be a great need for financial support. Echo Ranch Haines wants to join hands with the Port Chilkoot Bible Church and with you to reach out to this hurting community.
Although many of us cannot be present in person, a financial gift can help bring some hope in 2020. Our prayer is that by showing our love in this practical way, people will see the much greater hope of the Gospel penetrate where it may never have before.